[KR] Lost Ark Season 2 Updates, Expedition Territory Island, Housing System, Genderlock Removal, New Classes
---
Hello Adventurers!
Today LOST ARK Korea had a conference called Lutheran New Year where they revealed update roadmap for Season 2 of Lost Ark. There are several changes, quality of life updates and new systems that will soon come to the korean servers.
Please see all the changes below.
LOST ARK Season 2 Update Roadmap
1. Guardian Raid Difficulty Changes – Addition of Challenge and Nightmare difficulty levels.

Starting January 15 (Wed), the Guardian Raids will get a new challenge and trial(nightmare) difficulty. Challenge and Trial difficulty will be much harder than the normal difficulty, characterized by the item level or equipment, such as stats do not apply. In addition, the first team that successfully defeats it and the team that succeeded in the shortest time will be registered in the Hall of Fame and are given a special title.
On Wednesday, January 15th, these new difficulty modes will be added to Acates, Igrexion and the new raid Elberhastic.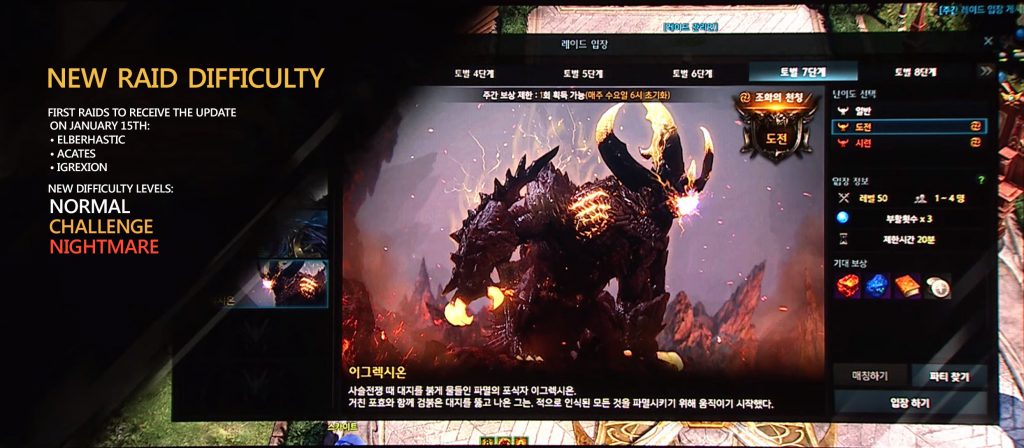 2. Photo Mode – Free camera to use for Videos/Screenshots.

Self camera function is added. Using the self-camera function, you can take screenshots from various angles, such as from the side or from the rear, unlike conventional viewpoints.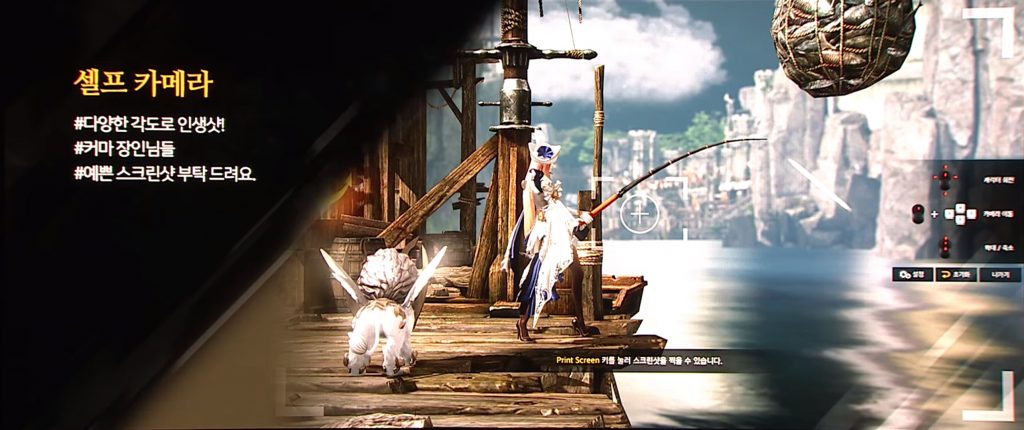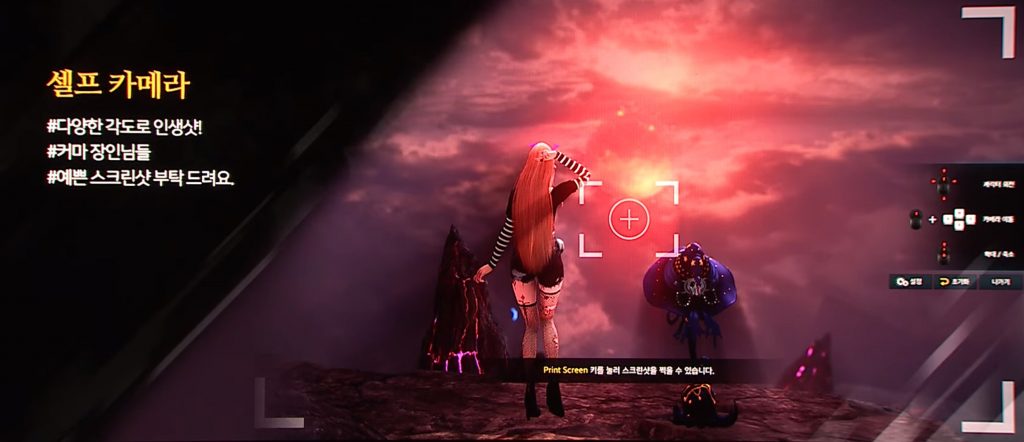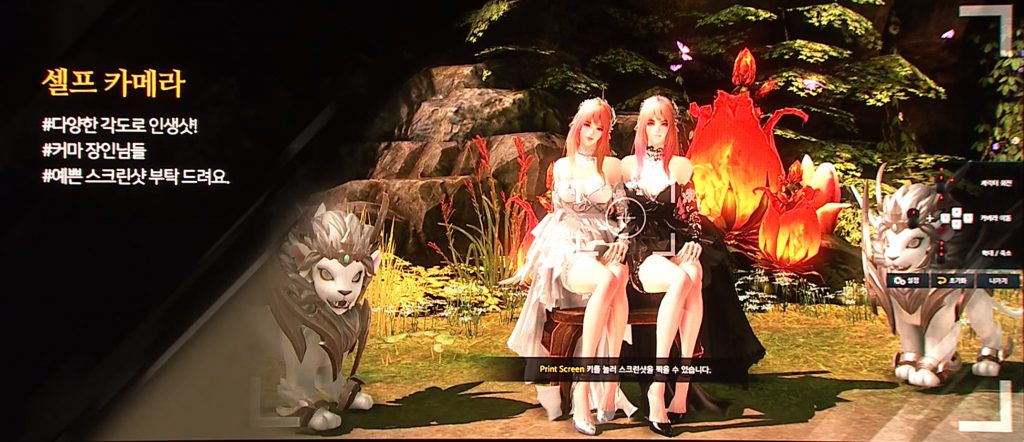 3. Leaderboard 'Hall of Fame' – Rankings for several contents in the game.
A rank system is added for each content. You can check your ranking in various contents such as reverse ruins, and the top ranks are given special rewards that other adventurers can boast of.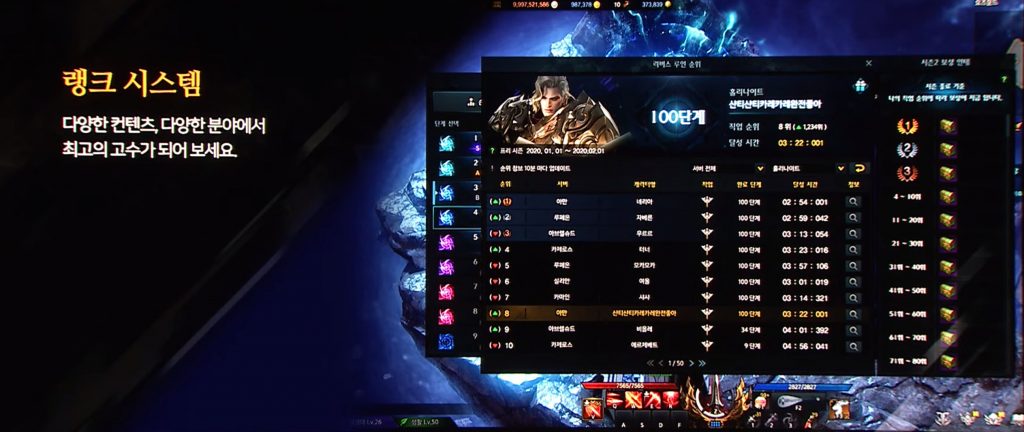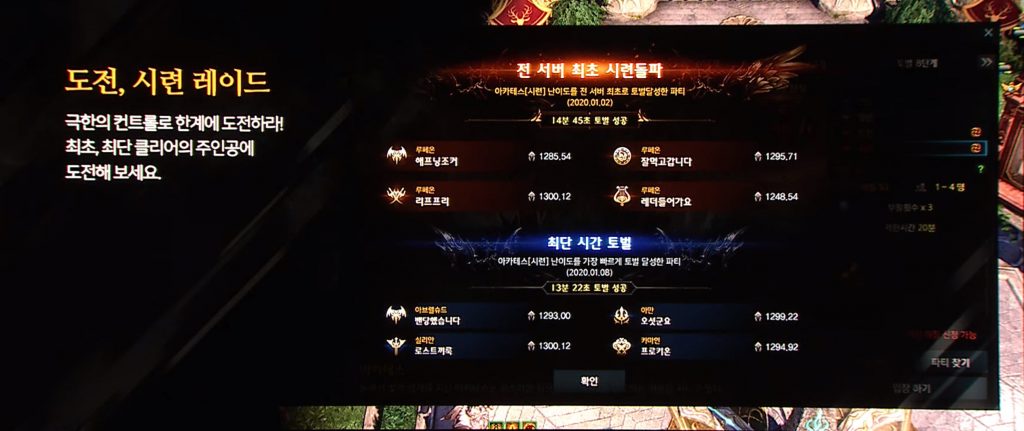 4. Battle Royale Island

You will be able to enjoy the Battle Royale genre, and the goal is to survive the threat of dinosaurs and become the last person.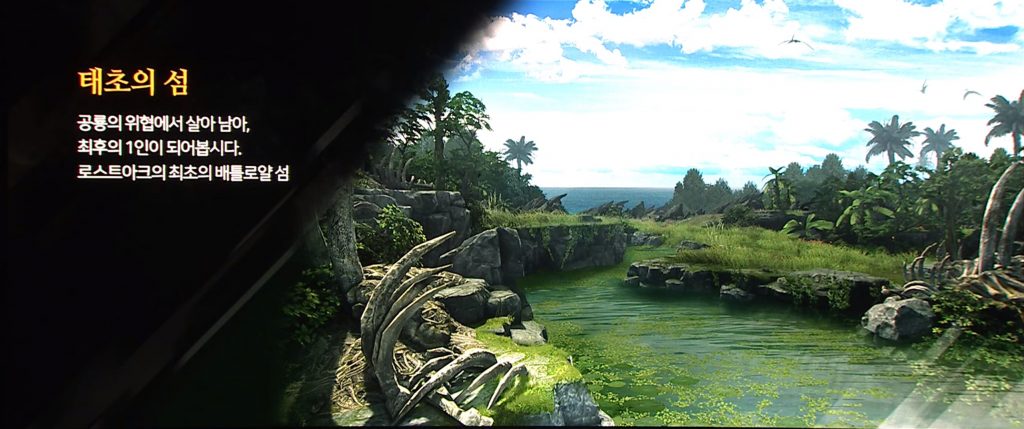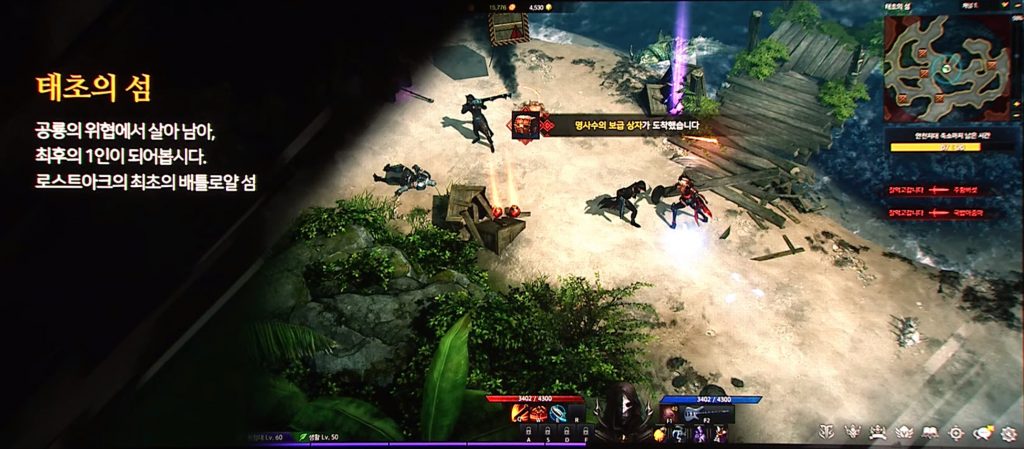 5. Affinity System Update – After the current 'Faith' affinity phase there is now an 'Affection' phase.
A crush is added to Navi, whispering small island NPC. Unlike general NPC, the main scenario is going to be very important.
A new level of affinity is added, the 'affection', which is the next level of trust. In the affection stage, a bit more daring directing will be carried out.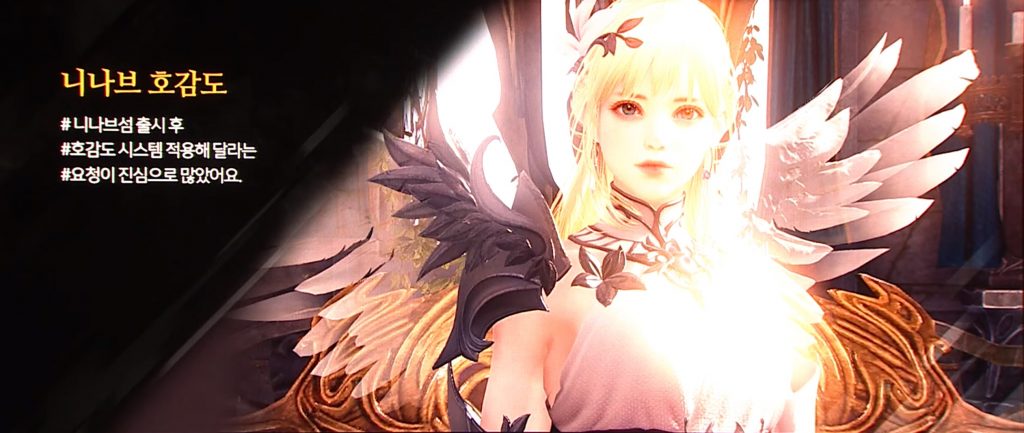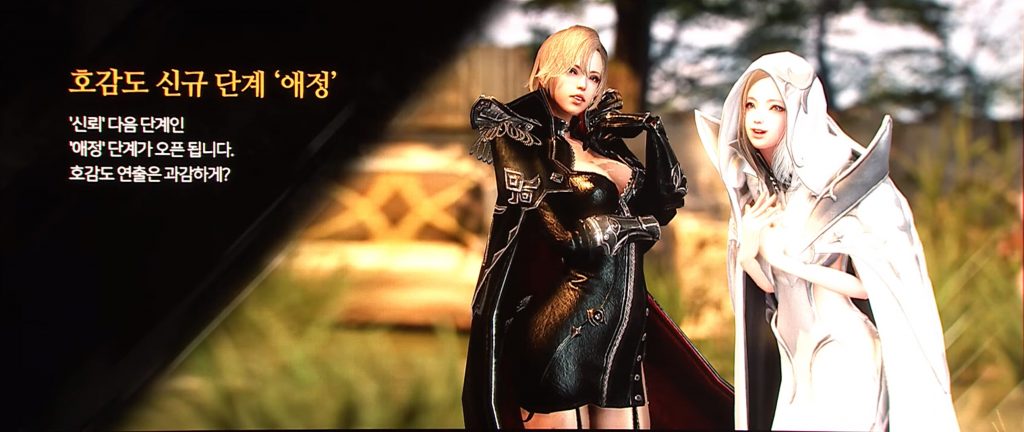 6. Expedition Territory Island – Your personal island with housing and you can bring NPCs here that you have reached higher affinity levels with or even your other characters as NPCs. 
Expedition Territory, which is your own estate, will be added. The expedition manor is similar to a very large island, and can be freely decorated according to one's taste. In addition to inviting NPCs and friends who have achieved a certain level of favorability, you can also activate a sub character within the territory.
In the expedition, there is a dressing room where you can change the clothes of NPCs or send your crew off to a specific area for various rewards.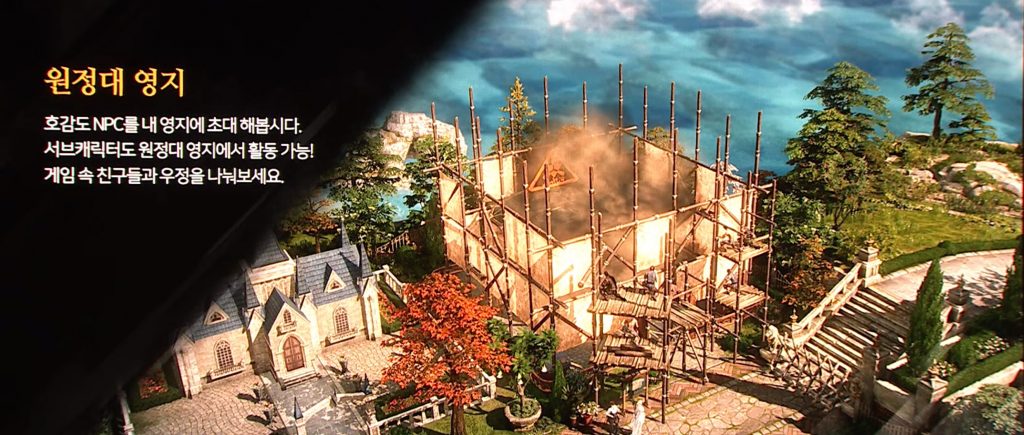 Video preview for Personal Island:
[fvplayer id="4″]
Several new features and changes.
Naval Expeditions with your NPCs

Affinity NPC Dressing Room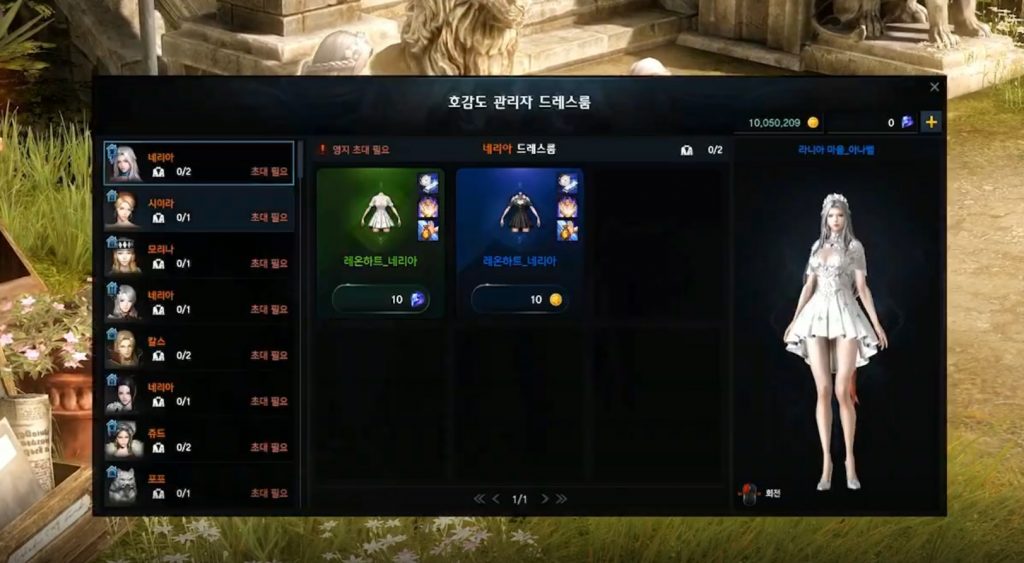 7. Genderlock Removal – Each gender will have a little variety to the same class. This is Male Battlemaster and Female Devil Hunter.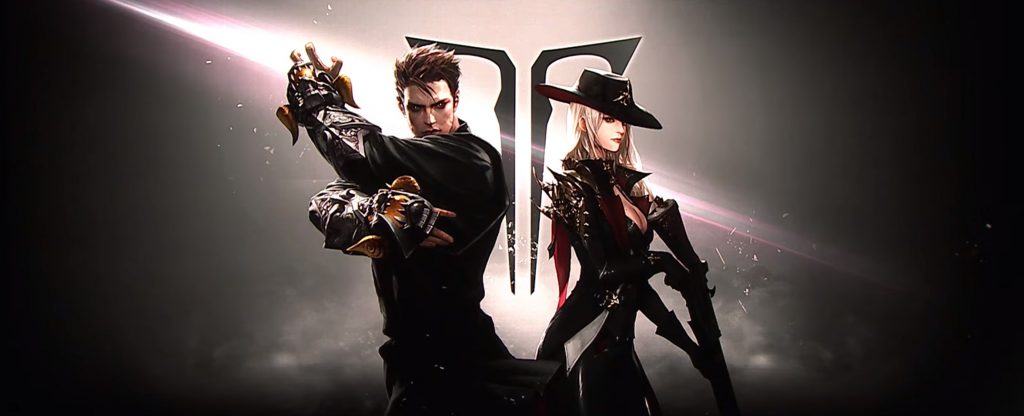 8. Life Skill and Naval Exploration(Sailing) revamp – Life skills are shared between characters now, Sailing becomes much more rewarding with new activities.
Life skills will be improved and category is rearranged. Sailing will also be transformed into an event play area for adventurers to enjoy, and special rewards will be given through the adventure.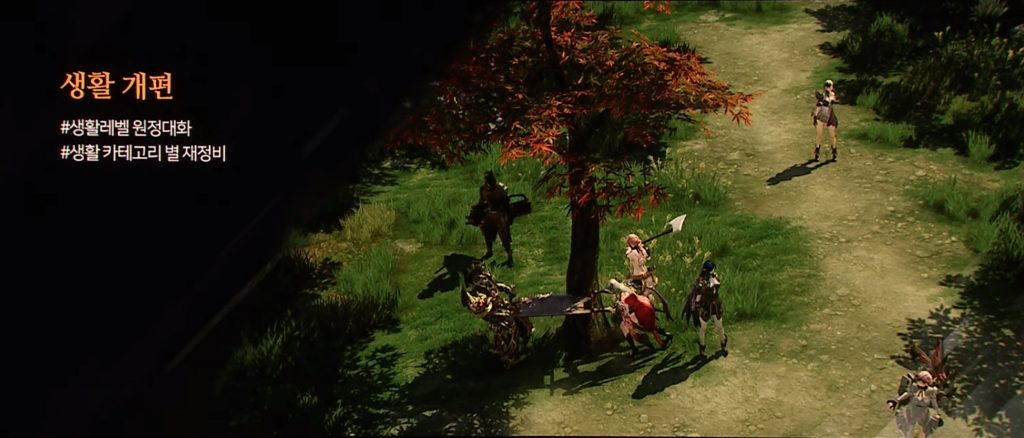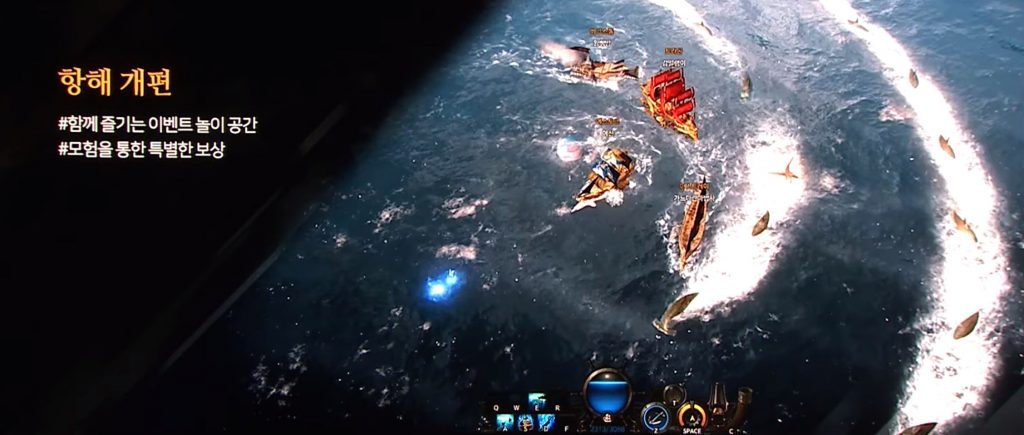 10. New Dungeon: Gate of Paradise – Deepsea dungeon and Guardian Raid Boss Arcadia
A new dungeon Gate of Paradise will be coming, an underwater dungeon that stretches out of the deep sea. The Gate of paradise consists of three floors, where you can meet seven bosses.
You can also battle Guardian Arcadia, mentioned on the Whispering Island.
The Gate of Paradise dungeon will be coming at the end of February.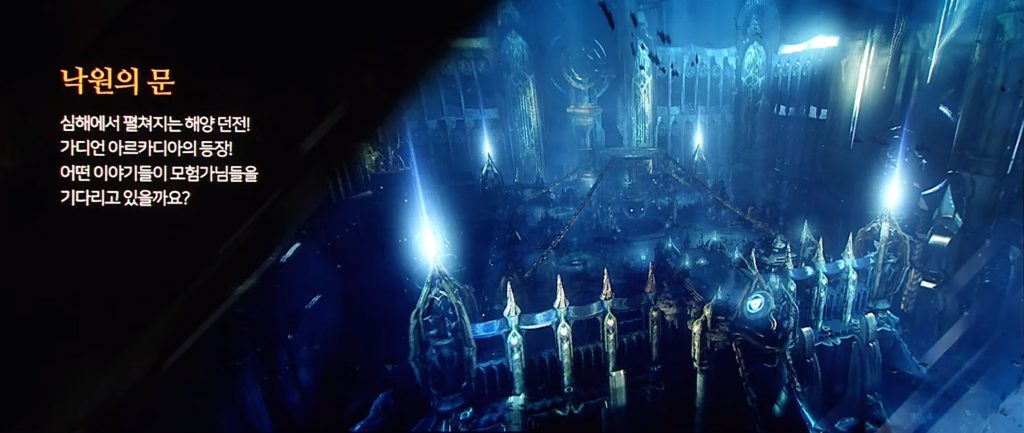 Video:
[fvplayer id="3″]
11. Quality of Life 'QoL' changes
They showed a list of changes planned that is categorized as 'convenience' updates.
Cross-server Group Finder
Expedition Quests Shared
More character hair styles
Completed Quests list addition
Calendar Island improvement
Island Heart revamp
Avatar presets
Guide updates
12. LOST ARK Season 2 starts – More lore and the current Season 1 is considered as a prologue introduction to the Ark.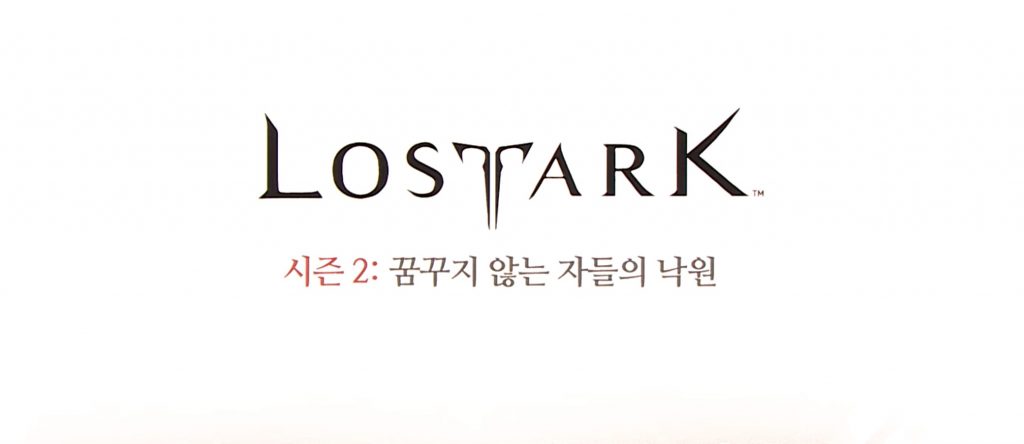 13. Content Cleanup and Positioning Changes – Removal of useless currencies and better organized access.
Season 2 will bring together existing content and positioning. For example, content such as Tier 5 won't be discarded as the positioning changes. In addition, personal information on pirate coins and numerous monetary issues will be all sorted out.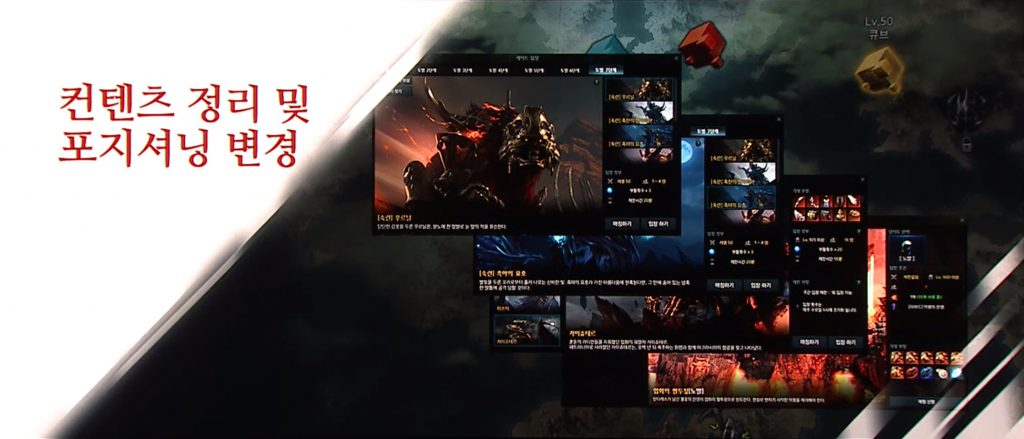 14. Silmael's Battlefield (GvG) Improvement – Addition of Fortresses and Castle Sieges.
Simael's Battlefield also reappears on the list to fix existing shortcomings. It's a way for guilds to take over by adding physical space, not virtual space as it is today. You can either benefit from this or proceed to the siege.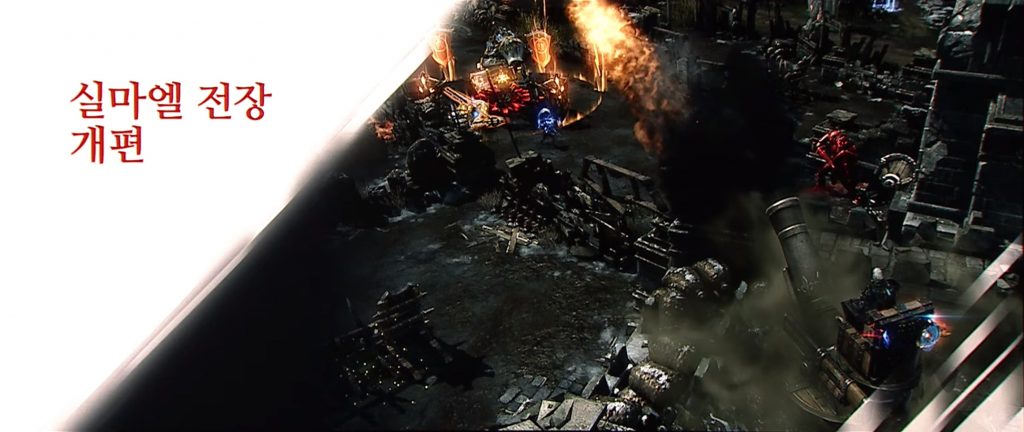 15. Island War – Different Occupation based Fight systems between Islands.
You can capture various islands before entering the island. The way to capture an island is varies from island to island. For example, in order to capture Snowfang Island, you have to fight well with snowballs. Occupying an island is a part of the guild capture system and gives other benefits.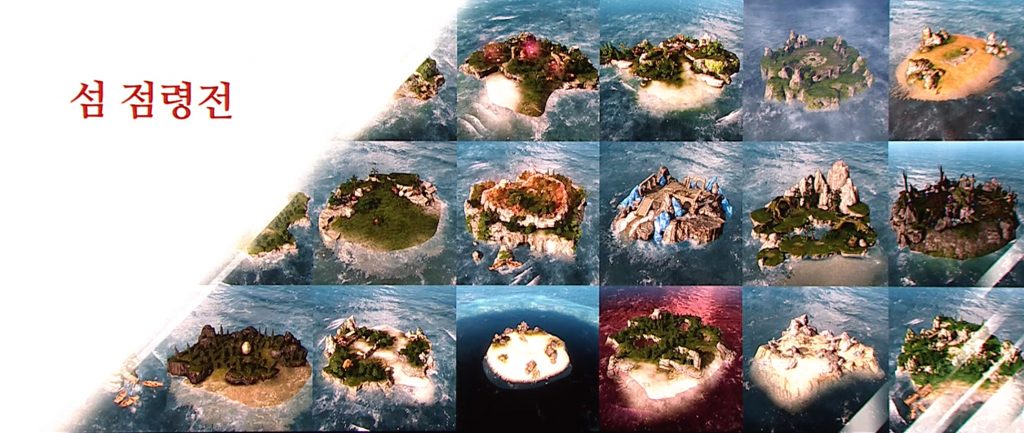 16. More Lore related changes – Continuation of the story about Kadan, one of the strongest story characters.
The last Esther, Kadan, will appear. It will be a very important role in game scenarios.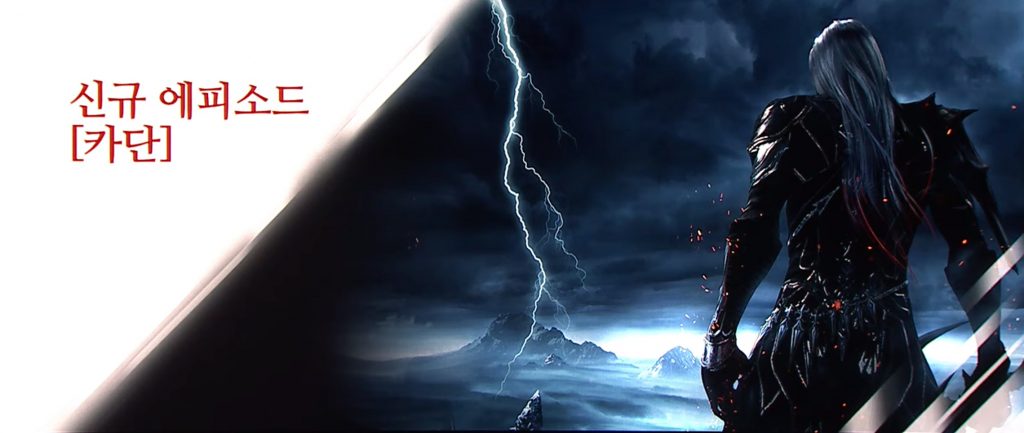 17. Growth Mechanism Changes – For more enjoyable gameplay.
Growth mechanisms such as item farming and leveling up will change. Currently, the refining method has almost no fun of obtaining items or fun of combining items, and it is difficult to change the refining effect. Various items will be added and the fun of farming will be improved.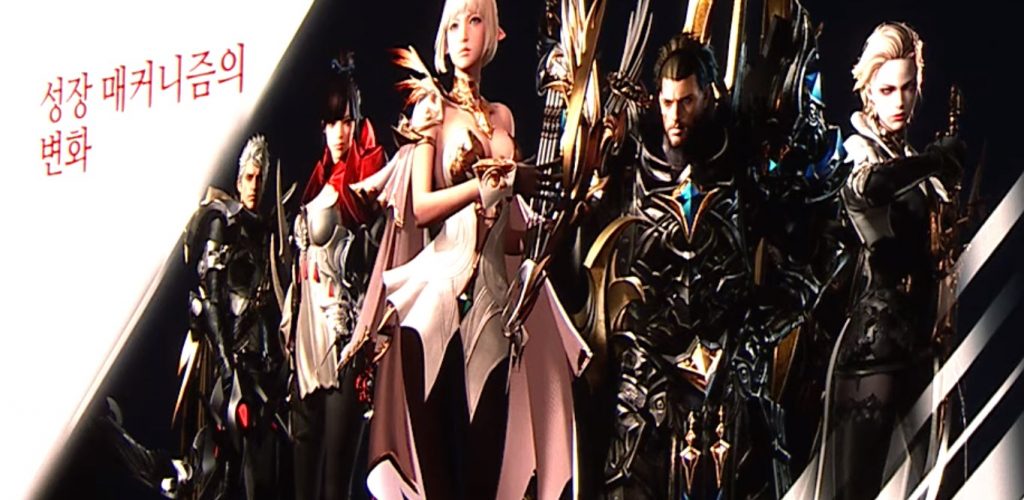 18. Card System Improvements – Combine Cards, Set Effects, etc.
The card system is reorganized. Unlike card battles, cards are equipped with characters to increase various stats.
This is similar to the rune of equipment below Tier 2. Also, gathering cards that are related to the story can cause a set effect.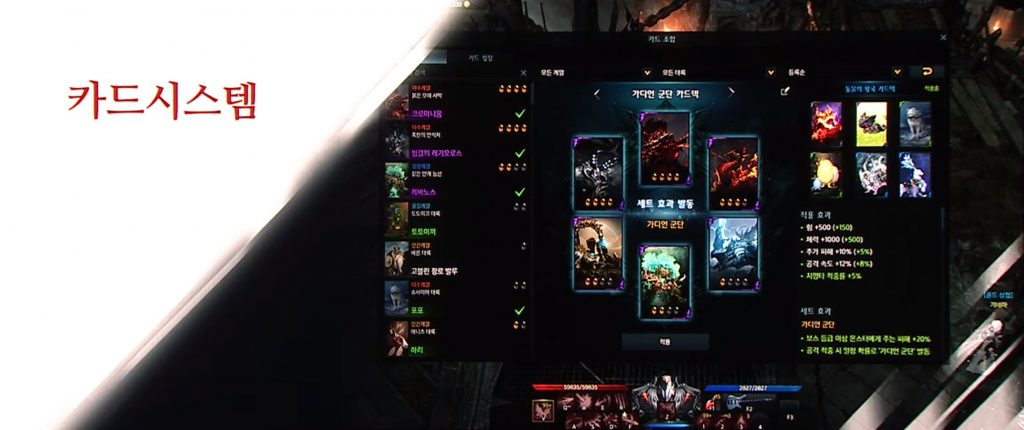 19. UI Revamp – Completely new UI, you can see some examples on the screenshots above and below.
UI is renewed. This includes skill preset positions, MVP windows, and guardian raid windows, and renewal takes place in consideration of UX and aesthetics.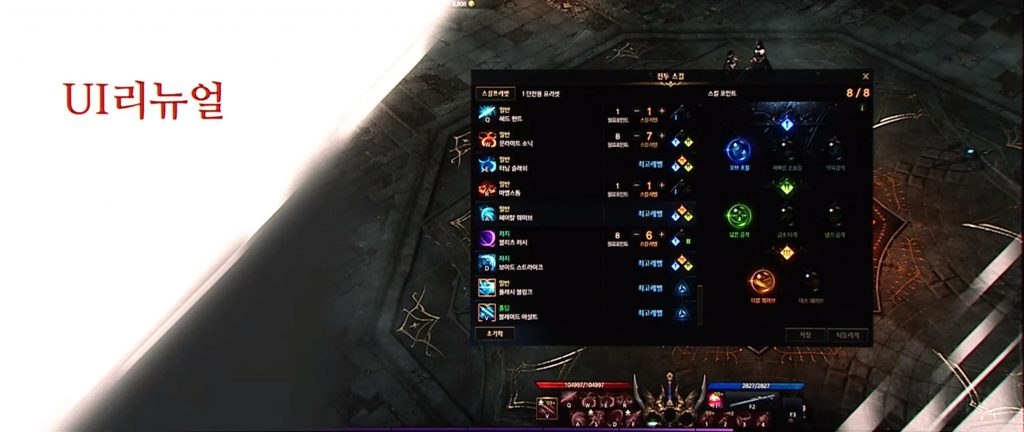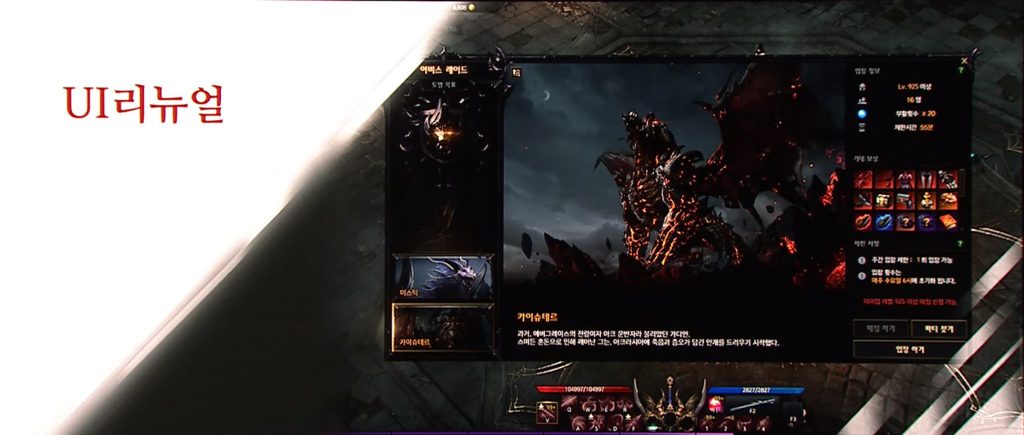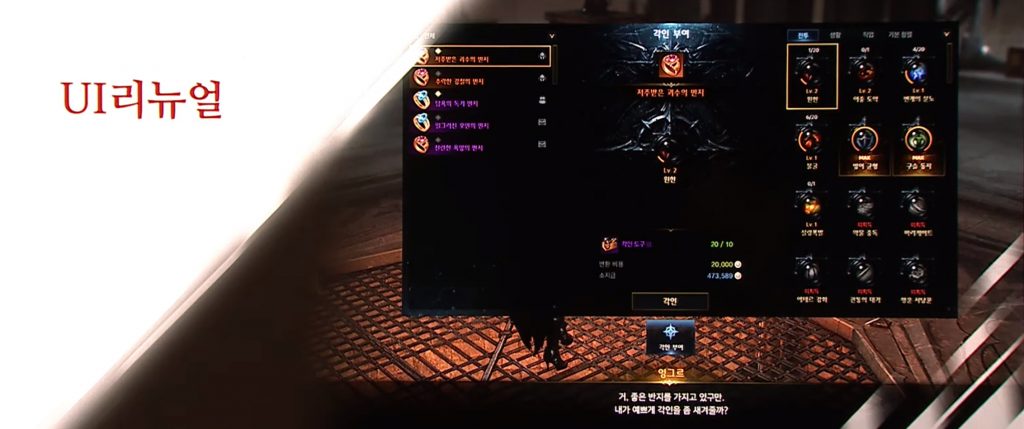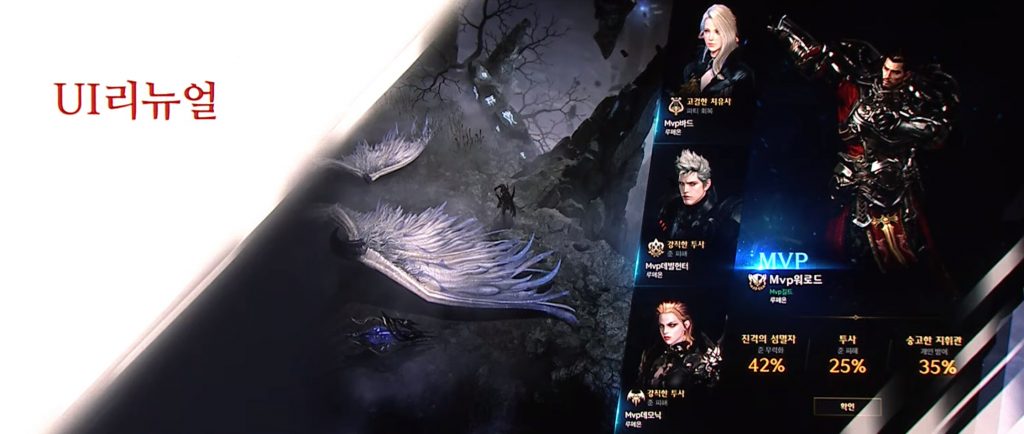 20. Two Completely New Classes to be announced.
Concurrent work is in progress and will be released as soon as quality is guaranteed.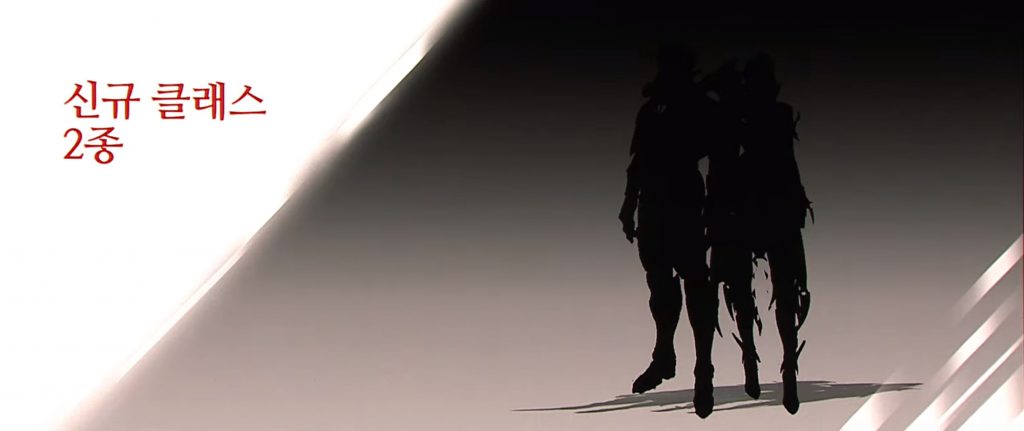 21. New Continent: Papunika
The Papunika continent will be added at the beginning of Season 2. Abyss raids are also being added for the continent.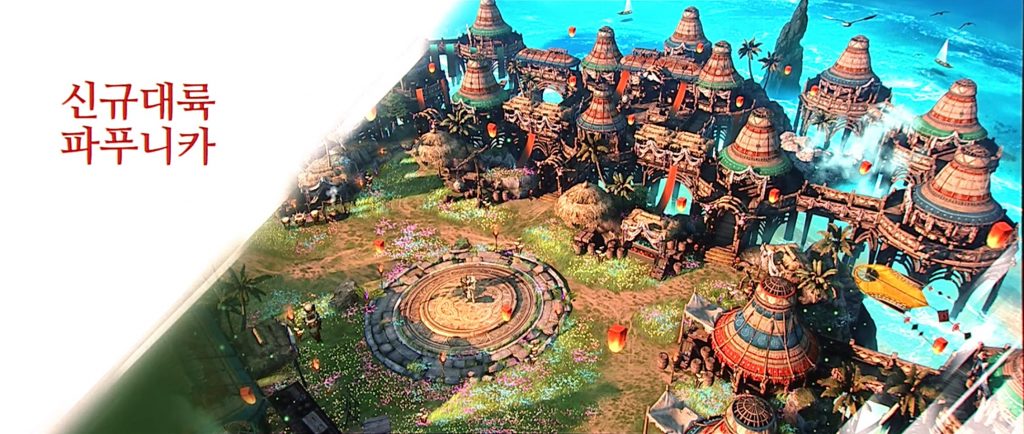 22. Region Leader Raids – More info later.
Raids against corps commanders such as Kamen and Abrelshud will be added. It will be added as an endgame content, and all skills and know-how, such as directing and story, are mobilized.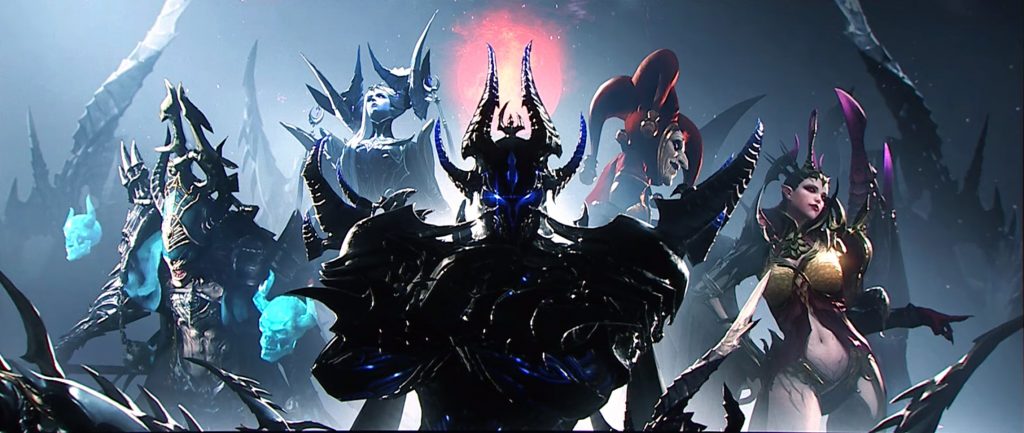 Other than these main points, there will be balance changes, community costume drawing contests and other community related events.
You can watch the full Lutheran New Year event here:
THANK YOU, PLAYERS!
As a thank you to current Korean server players, you can redeem the following coupon code THANKS2020 on the official website. (Code redemption page can be found here)
The code expires on January 15th. 
It gives several items: Enhancement Materials, Breath of Arcturus, Breakthrough Stones and a (Fast) Llama Mount.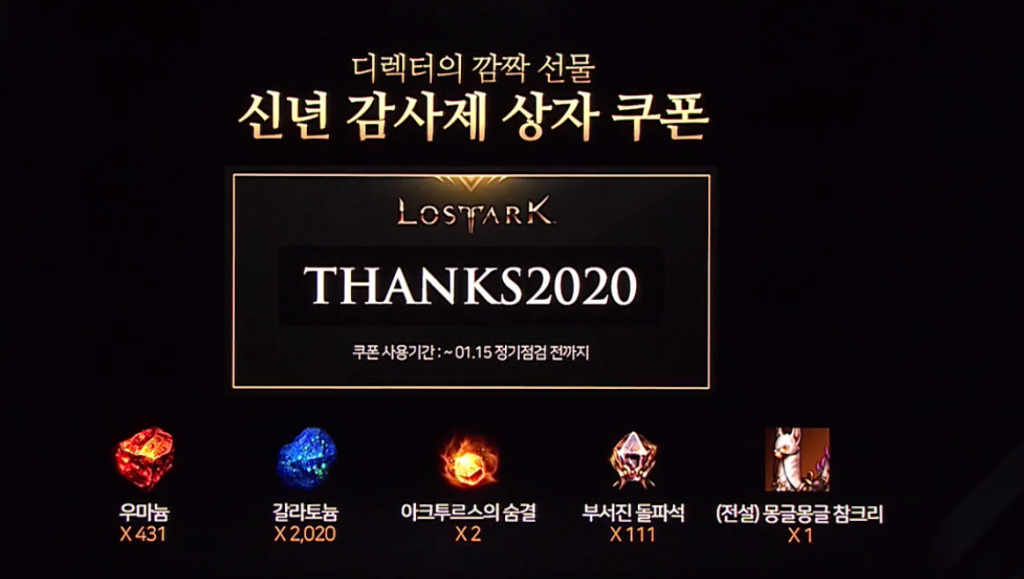 Source(s): INVEN, Reddit Post by ABC(Thank you for your work), Official Youtube Channel
---
About the author