[KR] October 23 - Update Notes
---
[October 23 Update Notes]
Hello Adventurers,
Regular inspections ended on October 23. (10:00 KST)
We will guide you to the updated information that came with the update.
Please refer to these notes, so that you do not have any trouble playing Lost Ark.
Updated contents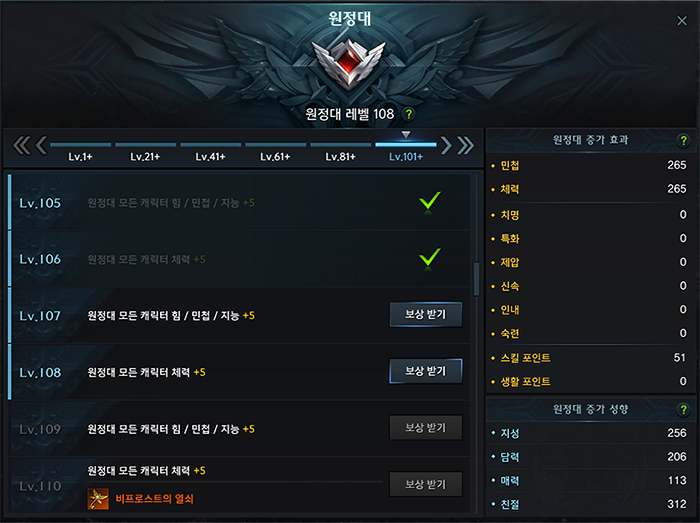 Expedition level system has been renewed.
The Expedition and Achievements have been changed to change the way the Expedition level grows, and the maximum level cap is extended to 150 .

Achievements no longer affect Expedition level growth.
The Expedition level and experience you have already achieved will not be affected.

Expedition level experience is now available through the following ways: (Update on 2019-10-23)

Clearing Chaos Dungeon
Clearing Raids – You can't earn experience in Apprentince Raids.
Clearing Silian's Order – Cube, Tower, Platinum Field, and Boss Rush.
Participating in Battlefield(PvP) – Normal and Competitive modes both give experience. Wins give more EXP.
Killing specific Boss monsters in Calendar Island, Secret Dungeons, Chaos Gate, Labyrinth and Nightmare Dungeons in Antares.
※ In Cube mode, more expedition experience can be obtained according to the floor number achieved.
※ In Platinum Field, expedition experience will be given at the end of play time, regardless of the number of collectables.
※ More ways to gain Expedition EXP will be added more in the future.

New Rewards have been added at levels 110, 120, 130, 140 and 150.

Level 110: Key to Unfrosted
Level 120: 10 Resurrection Feathers X 5
Level 130: 50 Crystal Box X 5
Level 140: Greater Stats Potion
Level 150: Wallpaper: Red Shroud Arena

Each expedition level will receive a base stat as a reward (Strength, Agility, Intellect +5 or Stamina +5).

Base stats you earn apply to all characters in the Expedition.
Rewards already earned will be applied automatically after the update.

Expedition level achievement rewards can be found and obtained in the newly added expedition UI (shortcut: O).
The existing expedition UI is changed to the achievement-specific UI (shortcut: Alt + O), and the progress of the achievement is easily improved at a glance.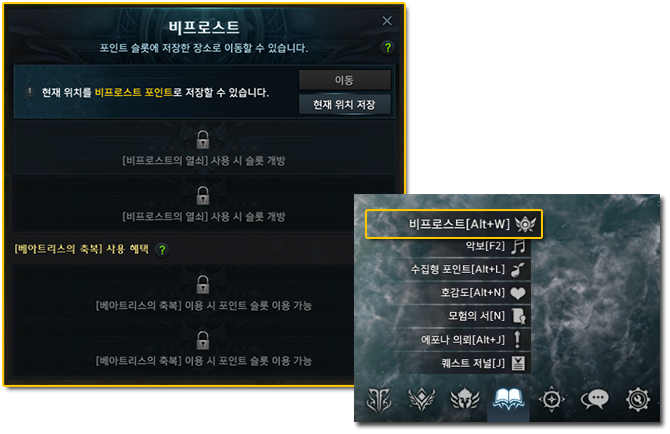 We've added a 'non-frosted' system for easy access to your saved places.
The non-frosted system allows you to save locations on the sea and move to various locations across the sea, islands, metropolises, and continental regions instantly.
※ You cannot use this feature in island areas that require specific admission conditions, such as calendars and events.
Non-frosted system is for Naval content. You must complete the quest to obtain a 'Sail License' before you can use it.

After opening the system, the non-frosted buttons are activated in the top information notification, quick menu, and game menu.
You can open the non-frosted menu via a button or shortcut (Alt + W).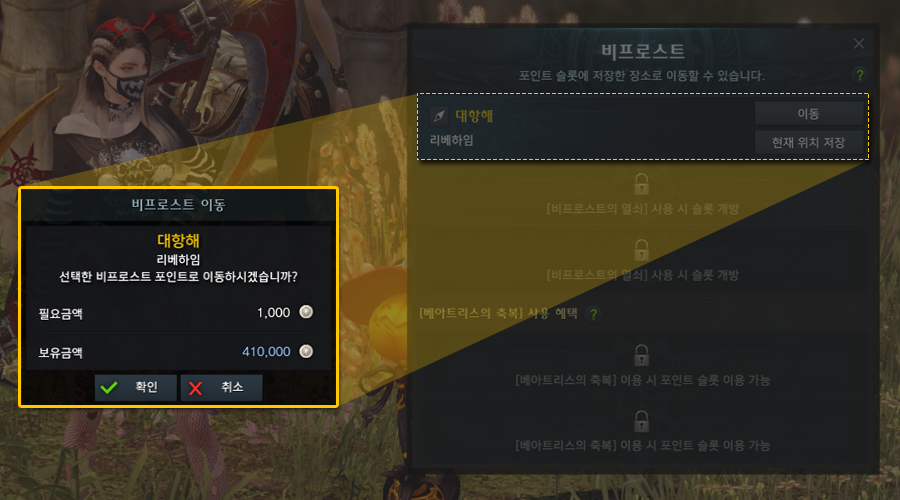 You can save the current location by pressing the 'Save Current Location' button in the non-frosted point slot and move it by pressing the 'Go/Move' button.
One non-frosted point slot comes by default, and you can have up to five non-frosted point slots.

You can unlock additional slots with the Key of Non-frost.
※ Reach Expedition level 110 to obtain one 'Key of Non-frost', more will be added to the expedition level rewards in future expansions.
Two extra slots are available, if you have the Blessing of Beatrice service active.

The information of non-frosted point slots is managed through expedition UI, and the location stored in the slot is bound to character.
Cooldowns apply when using the Save and Move feature for non-frosted point slots.

Save location cooldown: 1 day
Move cooldown: 2 hours
[ EVENT: Halloween 2019 ]

Cash Shop Contents


[Ship Skin] Nosferatu
Can be worn permanently by any character in one account.
Price: 10.000 Royal Crystal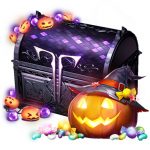 [Limited] Halloween Package-Special
Price: 75.000 Royal Crystal
Contents: Select 1 halloween costume for any class, Select 1 halloween weapon skin for any class, Select 1 halloween mount, Select 1 halloween pet, Character Select Background: Halloween Theme, Ship Skin: Jack-o-lantern Wanderer (Check below for screenshots on the items.)
Costume/Weapon skins give the same stats as other cash shop costumes.
Weapon stat bonuses: Power +1% Spirit+10 Charm+5
Contents Image Previews 
Costumes
Price is

31.000 Royal Crystal when purchased seperately from the big pack.
Color options: White, Green, Red
Stats: Head(Str/Int +1%, Power +10, Charm +5); Top&Bottom(STR/INT +2%, Power +15, Charm +15); Earpiece(Charm +5); Face(Power +5)
[Warrior] Nightmare Hipster( 악몽의 힙스터 )

[Fighter] Nigtmare Hipster( 악몽의 힙스터 )


[Hunter] Nightmare Hipster( 악몽의 힙스터 )

[Magician] Nightmare Hipster( 악몽의 힙스터 )


Weapons
Price is

7.000 Royal Crystal when purchased seperately from the big pack.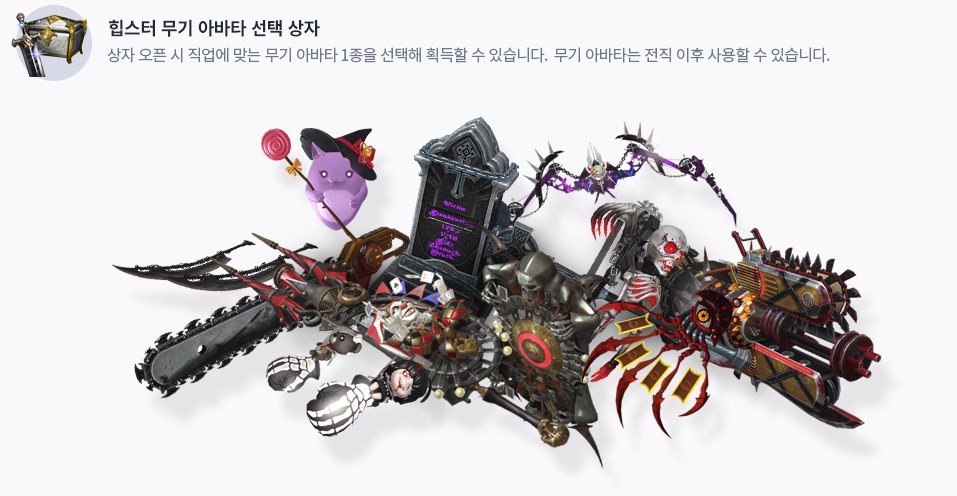 [Warrior] Nightmare Weapons (Warlord, Berserker, Destroyer)


[Fighter] Nightmare Weapons (Battle Master, Soul Master, Infighter, Lance Master)


[Hunter] Nightmare Weapons (Blaster, Hawkeye, Devil Hunter)


[Magician] Nightmare Weapons (Bard, Arcana, Summoner)


[Assassin] Nightmare Weapons (Demonic, Blade)


[Mount] Pumpkin Carriage 
Price is

19.800 Royal Crystal when purchased seperately from the big pack.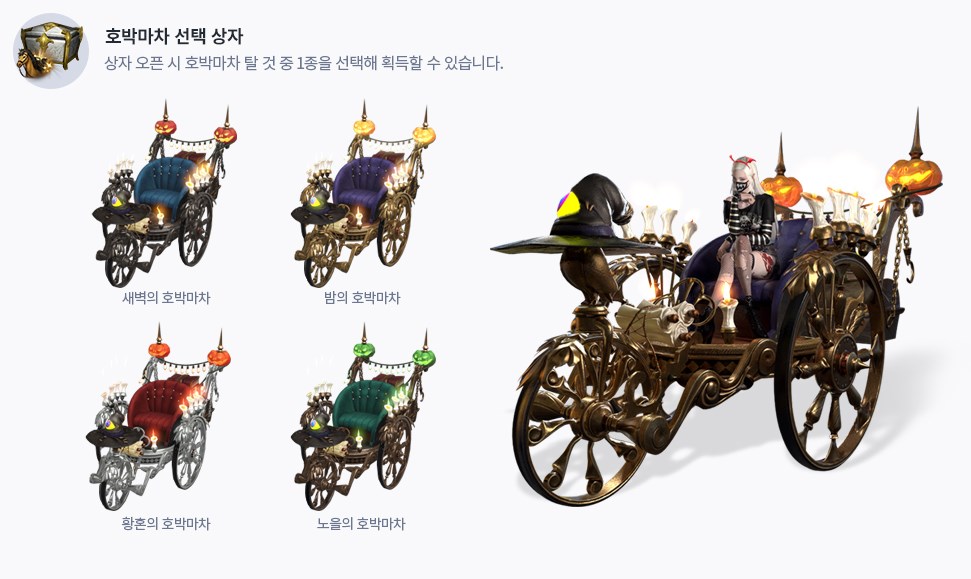 [Pet] Halloween(Freddie, Jack, Jason)
Price is

15.000 Royal Crystal when purchased seperately from the big pack.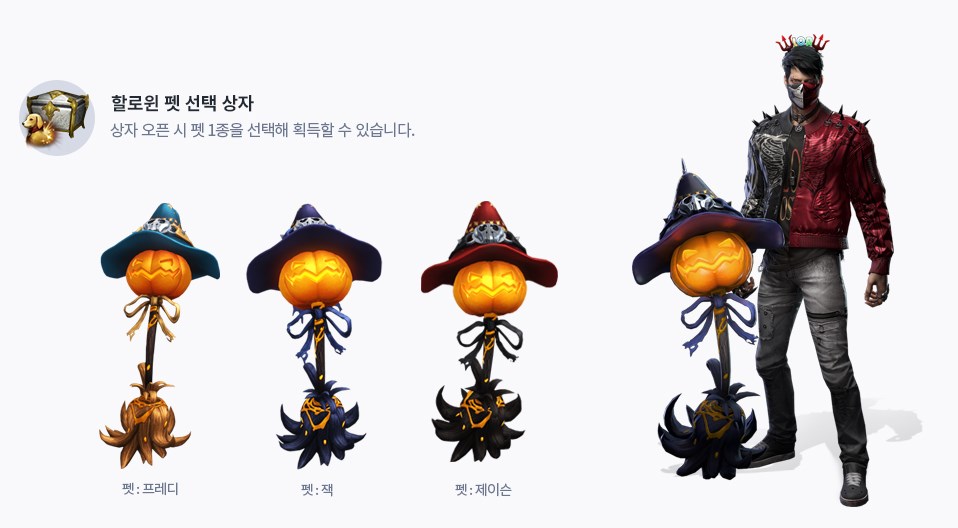 [Character Select Background] Halloween 2019
Can't be purchased seperately from the big pack.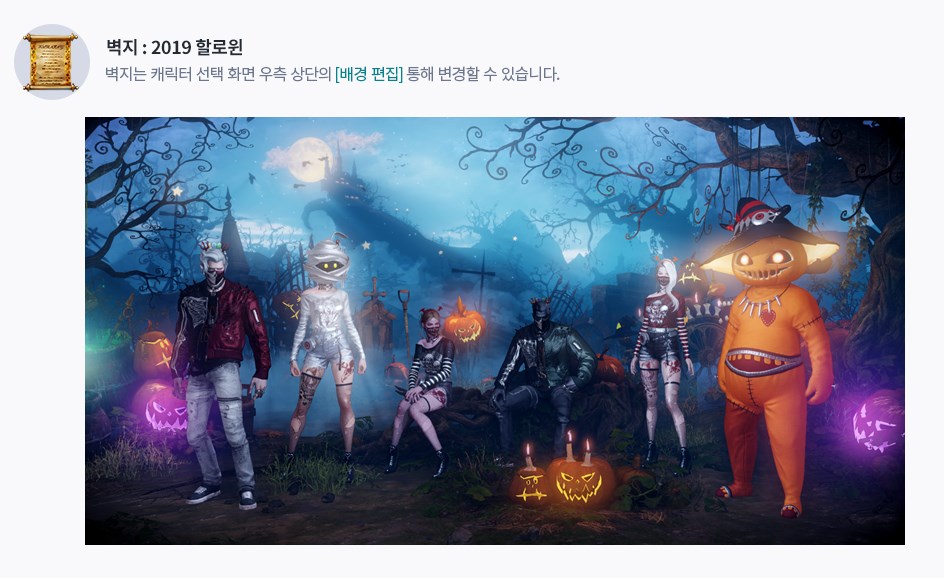 [Ship Skin] Jack-o-lantern Wanderer
Can't be purchased seperately from the big pack.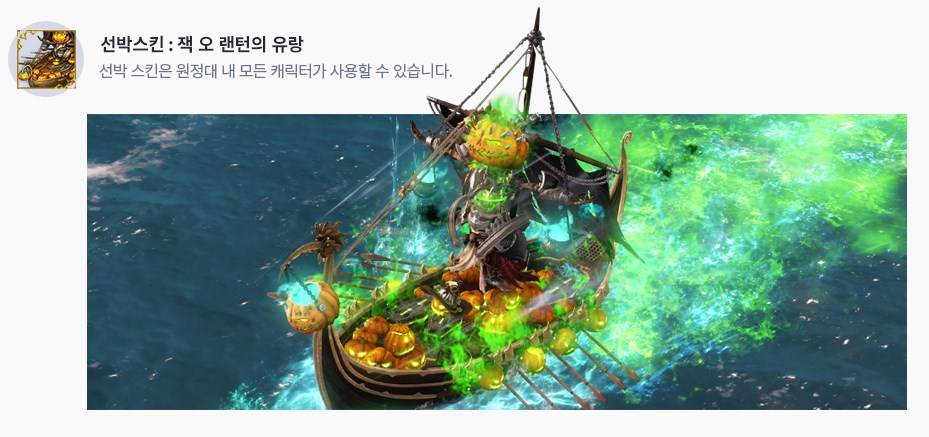 PC Café Bonuses
Extra silly Halloween themed costumes, hats, mount selection. (Mummy, Clown, Skeleton, Fat Halloween Plushie Outfit)

Improvements and Fixes
[ Forfe Island Improvement ]
Forfe Island has the following improvements:
Forfe Island has been changed to a dynamic island that appears regularly on a calendar schedule .
Changed the way of Forfe Island to defeat the Batuak Jeans that appeared in co-op quests.

Added co-op quest 'Fly like a butterfly and shoot like a chicken!'
Completing co-op quests will  earn more reward boxes based on your achievement level .
※ Covenant quests can be earned with a higher chance than the previous one in the reward box.

Adjusted the Battle Balance for Batuaq Jeans as follows:

Lowered the standard personnel needed to kill the Batuaq Jean.
Adjusted the health recovery of the Batuac Gin to meet the lowered requirement.

Changed to only cause damage to the 'Batuak Gin' while in Chicken Form.
Changed the chicken's transformation state so that it does not apply item effects such as adaptability, and does fixed damage.
Fixed milestones, item dictionary information, and loading tips in response to changes in Porpe Island.
[ Alarm system ]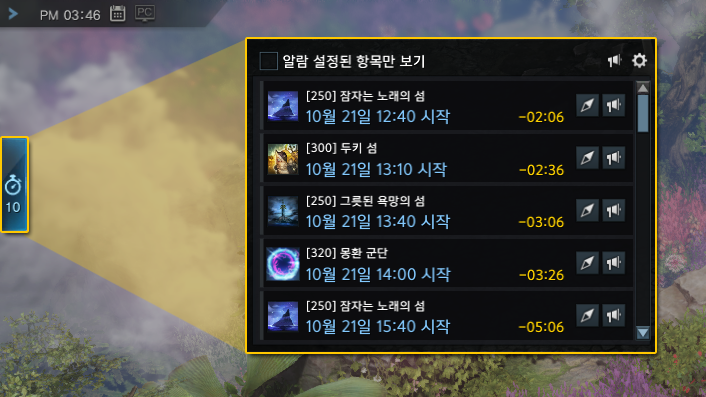 We have added an alarm function to conveniently announce each event.
You can open the alarm window by clicking the alarm button on the top left of the screen.
The alarm window displays a list of all content that is in progress within 12 hours, and allows you to set alarms for the list in bulk.

Hover over the contents of the list to see more details.
Clicking the View Location button for each content guides you through the locations on the world map.
Alarm can be set individually using the alarm button for each content.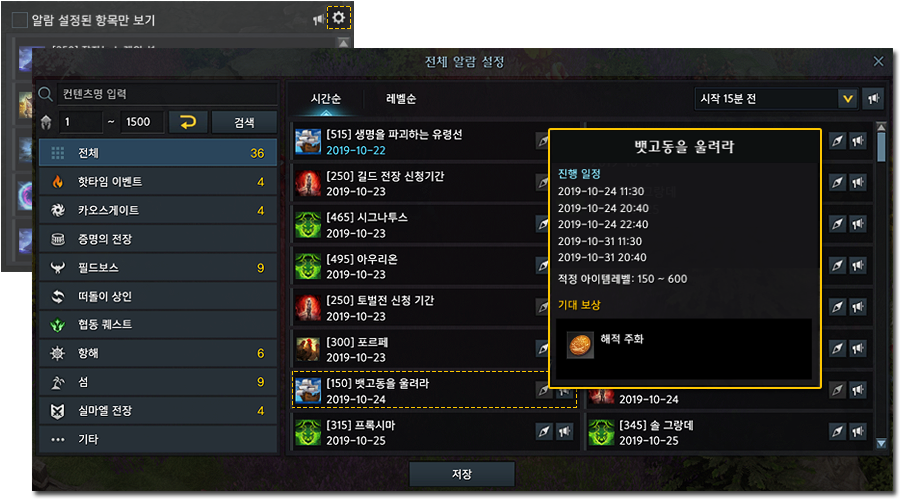 You can open the full alarm settings window by clicking the option button in the upper right corner of the alarm window.

In the full alarm setting window, you can check all contents by category within 30 days according to the schedule, and set alarms for each item.
Hover over each piece of content to see the last five events.

According to the setting made through the alarm function, an alarm is output before the corresponding time of the content.
[ Sailing ]
The following changes have been made to welcome butterfly island entry conditions:

Original: Check the average item level of worn equipment
Changed: Overall achieved average item level check

We've added a guide to the island's heart acquisition information below for some island loading tips.

Island of Fog, Island of Craving, Recreation Area Gravis, Monte Island, Dreamland Island, Harmony Island, Bluehole Island, Supreme Island, Island of Tranquil Rest, Sura
[ UI ]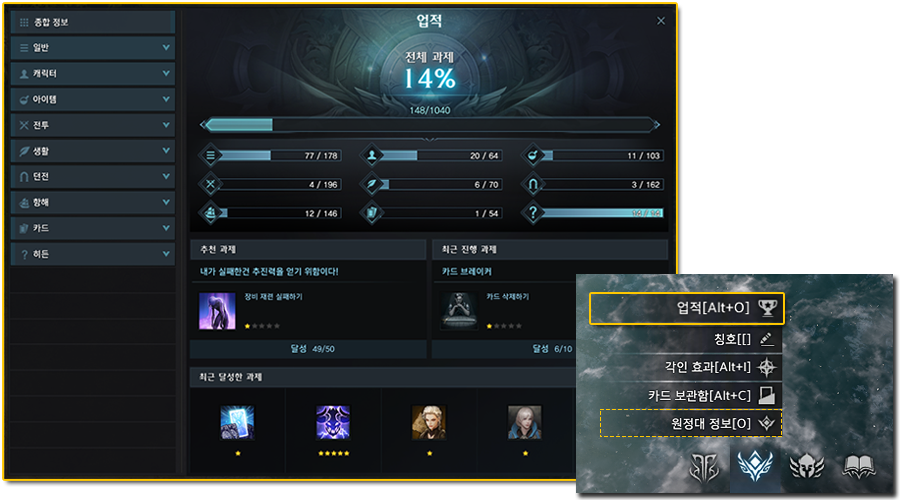 The 'Expedition' menu item in the lower right quick menu has been changed to the Expedition menu group and composed of the following menu.

Achievements
Style
Stamping effect
Card locker
Expedition Information

Removed event groups from the game menu (ESC) and added expedition groups.

In addition to the expedition group, the expedition icon at the bottom of the existing game menu has been removed.

A simple tool tip has been added to the Raid bulletin board to learn about skilled(advanced) raids.
The Guardian report no longer displays the Check Attributes button if there is no attribute related information for the raid.
New: Added background color of unselected stance in Devil Hunter Identity UI. (2019-10-23 add missing items)
Changed the cooldown display for unselected stance slots in the Devil Hunter Identity UI to match the skill type color. (2019-10-23 add missing items)
Changed bubble color filling in Bard Identity UI (2019-10-23 add missing items)
[ Lost Ark Shop ]
The [Monthly] Crystal Special Package has ended.
Renewed Blessing of Beatrice is available through newly added products.

Addition of 2 extra 'Non-frosted' slots to bonuses.

Halloween 2019 packages added.
[ Other ]
Added two new wallpaper.

Red Veil Arena
2019 Halloween

We have added a shortcut for the following items in the shortcut menu of preferences.

Expedition Information
Achievements
Non-frosted

Changed the attribution of [[Daily] Epona Requested Complete Token] to 'Expedition Attribution'.
We've added an item to the item tooltip to make it easier to see how long it's available before acquiring a fixed-term item.
Added a guide tooltip for naming rules when creating characters and creating guilds.
Changed the icon for Blade Tier 3 Artifact Gear 'Uprunner' to an icon that matches the actual image.
---
About the author