Smilegate is starting an eSport Tournament, invites for the invitational challenge sent out
---
Smilegate is looking to get into the competitive esport world with a Lost Ark Tournament.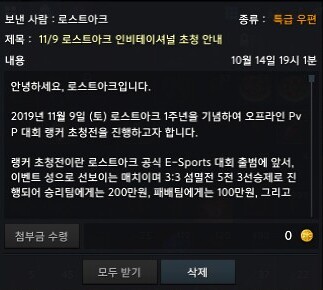 This message went out to top players in email:
"Good morning Adventurers,
This is Smilegate RPG Lost Ark Business Team. We would like to recruit adventurers for the Lost Ark Invitational Challenge , scheduled for November 9, 2019. Prior to launching the Official Lost Ark E-Sports Tournament.
It will be a game of Team Deathmatch, and the teams are expected to get 3 wins or 33 eliminations.
The winning team gets paid 2 million korean won(~1700 USD), 1 million won for the losing team, and 500,000 won for one MVP.
The top 6 best rank players for each class has been sent an invitation to participate in the event, we are inquiring sequentially based on the rank in the TDM leaderboard of the present day (October 14, 2019).
If you wish to participate, please fill out the form and send it back in reply.
Please fill out the personal information (address, contact, date of birth, name) specified in the form and sign it. After reading the [Appendix] Personal Information Processing Agreement, please read 'My Contents' and complete the consent check and add your signature. (Please fill out the pledge as much as possible by handwriting, and hand it over to us.) Please send us your inquiry in a rather urgent manner for internal schedule reasons, and we will reply to you by Thursday, October 17, 2019. If your reply is delayed, we will open a public inquiry to the next-ranked invitational. Thank you for your patronage and love of the Lost Ark. Please take part in the Lost Ark Invitational on November 9th. Thank you."
Korean players were confused about this whole announcement, because the game has not seen serious PvP balance patches in almost a year. Also they are removing PvP specific gear.
What do you think? Could Lost Ark be the next competitive game?
---
About the author