---
Heroes of Arkesia,
Launch is rapidly approaching, and we want to make sure that you have all the details you need to feel prepared for your coming adventures in Arkesia. We'll continue to share information between now and launch, but today we wanted to focus on ensuring you know key timings, how you'll have access if you preordered, and are able to plan out which server you and your friends are going to make your home.
LAUNCH TIMING
PRE-DOWNLOAD
Pre-download will be available starting on Monday, February 7 at 9AM Pacific time (5PM UTC), regardless of whether or not you purchased a Founder's Pack.
There is no option for pre-period character creation or name reservation; your name will be "reserved" or locked only when you finish the character customization screen.
HEAD START
Servers will open for Head Start access on Tuesday, February 8 at 9AM Pacific (5PM UTC). You must purchase a Founder's Pack to receive access to the 3-day Head Start. If you purchase a Founder's Pack at any time during the Head Start, you will be able to play for the remainder of the Head Start period.
LAUNCH
Servers for all regions will open for launch on Friday, February 11 at 9 AM Pacific (5PM UTC). Players will be able to play for free at this time!
FOUNDER'S PACKS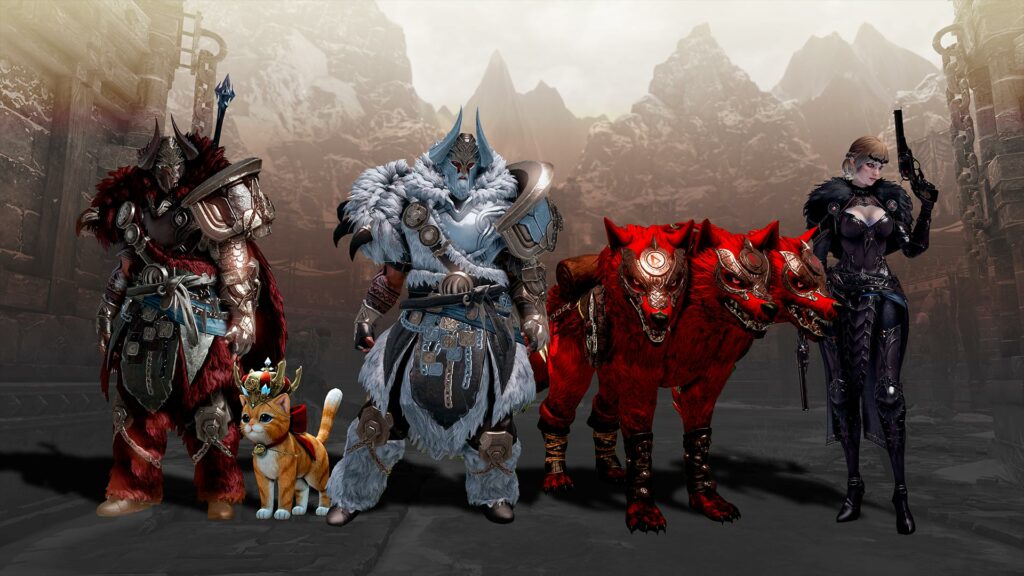 Founder's Packs will be available for purchase through 9AM Pacific time on February 11th. Steam customers will have their Founder's Pack benefits auto-entitled for them. Amazon customers will automatically be sent a key for their Founder's Pack on Monday, February 7, or (if purchasing after February 7th) immediately upon purchase confirmation between 9AM Pacific Time on February 7 and 9AM Pacific Time on February 11, which is when the account will be charged.
Founder's Packs will be delivered to your account's Roster Storage, and from here you will be able to obtain the contents and apply the skins to the characters of your choice. The Skins will only be usable on the 15 classes that are available at launch.
SERVERS
SERVER DETAILS
Server Reset Times (Daily, Weekly, Bosses, Events, etc.) are per Region. Daily and weekly resets will be done at 1AM (or 2AM, depending on Daylight Saving Time and the regional time where the server is located) or after any scheduled downtime is completed. Core content such as raids, dungeons, and PvP events will maintain the best local hours by applying the following times offset calculated from each region's 0 hour.
NA West UTC-7
NA East UTC-4
Central Europe UTC+1
SA UTC-3
This means that a dungeon meant to open at 7PM on server time (UTC) will be open for US West 7 hours later to make it more playable/accessible for NA West players. The same goes for every region using the timings listed above.
It is also worth noting that the in-game UI will display server time, not a player's local machine time. For example, NA West will display Pacific time for all players to reflect the server's time.
Please note that after the game is launched, server reset times may be adjusted slightly to best fit player and server needs.
SERVER LIST
This is the list of servers that will be open for players to select, beginning from the Head Start on February 8th. Additional worlds may be opened based on population levels.
Central Europe
Neria
Kadan
Trixion
Calvasus
Thirain
Zinnervale
Asta
Wei
Slen
North America – East
Azena
Una
Regulus
Avesta
Galatur
Karta
Ladon
North America – West
South America
As always, thank you for your support. Make sure to follow our social channels and PlayLostArk.com as we head toward launch. Here's where you can find us:
See you in Arkesia!
---
About the author